What Actually is a Garden Room?
A garden room is, by definition, a heated structure that is distinct from your main house. In reality, it is much more than that.
A garden room from Total Garden Rooms is, unlike a shed, a high-end purpose-built space often constructed of the finest construction materials, designed to survive the elements and enable comfortable year-round use. They are a truly lovely addition to your home that enables you to create a multi-functional room with extra furniture and adaptable designs rather than just a shed where you may keep your tools and other bits.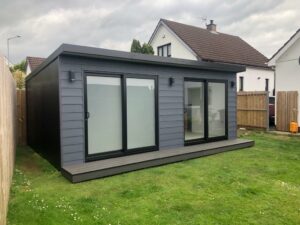 For a couple of years now, garden rooms have been a popular option for homes wishing to make the most of their outdoor area and add a touch of luxury. With more individuals finding themselves spending more time at home and in need of extra space, Total Garden Rooms have been constructing the finest garden rooms to meet these needs across Northern Ireland! Today, more than ever, we continue to see this huge demand for these rooms.
Is a garden room right for you?
Unlike a conservatory, loft, or home extension, a garden room rarely needs planning permission when constructed in accordance with normal regulations. This gives you the authority to install the room anywhere in your private garden, with a height limit of 2.5 metres. A  garden room can be built using conventional building techniques in only a few weeks with little inconvenience to you and your neighbours. It is also a reasonably priced choice that will greatly increase the worth and value of your property.
What can you use a garden room for?
A garden room can offer you privacy, as well as an escape from the hassle of a busy home! However, one of the most crucial lessons we've learned from designing and installing luxury garden structures over the years is that your garden room's potential is limitless.
When you choose Total Garden Rooms, you can customise your room to suit your lifestyle and truly make it your own, whether you want to add extra space for recreational activities or privacy for business. Popular uses for garden rooms include:
Offices

Gyms

Home Cinemas

Mancaves

Second Living Rooms