Why aren't people moving out anymore?
As the cost of living increases, the number of generations living together in one home is growing. It's been growing for decades, and it's not uncommon for kids to move back home after university or for grandparents to live with their children for that additional support.
Having more family together is always great, but moving in with your parents as an adult or with your adult children, can often mean a drop in independence. Not to mention that things can get pretty crowded!
Having more people in the home means having additional space is more important than ever. Everyone needs to get away and have some peace and quiet from time to time.
Extensions or Garden Rooms?
Extensions are a popular choice, to be sure, and probably the first thing that comes to mind when you think about ways to increase the space in your home to accommodate for multiple generations. But they aren't always the best choice.
When your children are moving back in after experiencing independent living at university, transitioning back to the parental household can be tricky, for the children and the parents. The kids aren't always so keen to lose their newfound independence!
Similarly, if it's your older parents moving in, well they've had a whole lifetime of independence, and the power dynamic is shifting a lot here. Maintaining a sense of independence for them is crucial to ensure both you and them are enjoying a comfortable living situation!
A garden room offers a better choice for maintaining independence, as it's completely separate from the main house, and can be kitted out with plumbing, kitchen and bathroom facilities. Consider it almost a self-contained, mini home, tucked away neatly in the garden! The separation helps you get a bit of space whenever you need it, and allows the other generations living with you to keep their sense of independence. But because it's in your garden, you still be able to see them all the time, and if they are moving in because of care needs, you'll be right there on hand when needed, without them losing out on feeling self sufficient.
GARDEN ROOM PRICES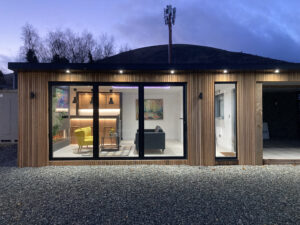 We offer a wide range of garden room styles, with plenty of bespoke additions and design features to help you get the perfect garden room to suit your multigenerational family's needs. Get in touch today to find out more about what we can do for you and your home